I've been a bread lover since I was a little girl...but this is one thing I don't owe from my mother. As I've told you before, we didn't have an oven when I was growing up so my mother never baked bread. I owe my love for bread to
The De Castro's,
my childhood friend's family who owns Halina Bakery. This bakery has been selling the best tasting Filipino breads in the City of Calapan since I was a little girl until now. It is now being managed by my friend, and I must say that just like her parents, she's really doing a great job. I remember that there was this other bakery much closer to where we used to live, but we would rather go to Halina Bakery to buy pan de sal, loaf bread, ensaymada, pan de coco, monay, pan de lemon, pan de agua, kalihim, mamon, puding, spanish bread and hopia. All their bread really taste a lot better than those of the other bakery. I'm not saying this because it's owned by my friend. It's just how it is.

One of my most favorite bread from Halina Bakery is the Pan De Coco which means Coconut Bread. It is a soft sweet roll with sweetened coconut filling which I loved having for afternoon snack. My mom would always buy it in dozens 'coz my brother and I never seem to get enough of it.
Last week, I thought of making Pan De Coco for the first time.
I tried experimenting with my Pan De Sal recipe to transform it to a much softer and sweeter roll with a shiny finish.
Was I successful??? Well, kinda. It's good...but I think I have to work on the softness more. I'm not sure if I just over baked it a little or I didn't knead the dough enough. But the rolls were delicious and soft enough though not as soft as I remember the Pan De Coco from Halina Bakery.
I still have some Haleyang Ube (Purple Yam Jam) so I filled half of the dough with it, and half with sweetened coconut. I came up with 9 pcs. Pan De Coco and 9 pcs. Pan De Ube and they are all gone in 3 days! Clarise and Cherlin love ube so they both prefer the Pan De Ube more. Ryan, on the other hand, finds the Pan De Coco perfect for his coffee.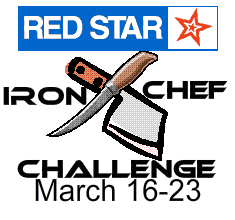 1 envelope Red Star Quick Rise Yeast (0.25oz)

¼

cup warm water

¾ cup plus

½

Tbsp sugar

4 cups bread flour

½

Tsp salt

½

cup butter, softened

½

cup lukewarm milk

2 eggs, beaten

1 tsp vanilla extract

about ¾ cup all purpose flour for dusting

1 egg, beaten, 1 tsp water , 1/8 tsp salt beaten together (for egg wash)
For the Filling:
Coconut (good for 9 rolls)
1 cup freshly grated coconut

½

cup brown sugar

¾

cup water

1 tsp vanilla extract

¼ cup butter
Ube (good for 9 rolls)
1 cup homemade Halayang Ube (For the recipe, click here. You should make the ube ahead of time because it takes long to cook.)
Procedure:
1.
Dissolve yeast and
½
Tbsp sugar in warm water. Let stand for 10 minutes. The mixture should increase in volume if the yeast is active.
2.
In a large bowl, combine bread flour,
¾
cup sugar and salt. Mix well. Add the butter, milk, eggs, vanilla extract and yeast mixture. Mix until well combined.
3. On a clean surface dusted with flour, knead the mixture into a smooth elastic dough. Shape into a ball and put back in the mixing bowl. Cover the bowl with plastic wrap and let the dough rise for 1 hour or until it increase in size.
4. While waiting for the dough to rise, cook the coconut filling. Place all the ingredients in a saucepan over medium heat. Mix thoroughly and simmer with frequent stirring for 25 minutes or until water is all absorbed. Remove from heat and allow to cool down completely.
5. After rising, transfer the dough onto a lightly floured surface.
Punch the dough, knead again and divide into three for easy rolling. Roll each piece of dough into a log about 2 inches in diameter.
Using a dough cutter or a flat knife, cut the log into equal pieces of about 1
¼
-inch thickness.
6.

Using a rolling pin, flatten the dough into a round shape.

Place about 1
½
Tbsp of filling in the middle of the flattened dough. Gather sides and pinch together to seal.

Place the roll with pinched side down on a parchment paper lined cookie sheet. Repeat the procedure for the rest of the dough.
7. Preheat the oven to 325F. While preheating the oven, cover the tray with a damp cloth to let it rise some more.
8. Brush the top of each roll with egg wash to give a shiny finish. Place cookie sheets on the second highest level oven rack and bake for 20-25 minutes or until the bottom of the roll is light brown and the top of the roll is starting to crack.
9. Transfer to wire racks and allow to cool down a little before serving.
a Rafflecopter giveaway
Congratulations, Anna! Our friends from Next Day Flyers will contact you soon. My sincerest thanks to everyone who joined...and thanks so much to Next Day Flyers for sponsoring this giveaway!!!